Since May 2019 the artstudio Sigel@Thanari has been located in the beautiful Prignitz at Thanari Kunst-Werk-Hof in Putlitz.
Here wonderful, handcrafted unique pieces of jewelry made of glass, leather and metal are created. In addition to the jewelry, large glass sculptures are also made, which are combined with wood or stone depending on your wishes and ideas.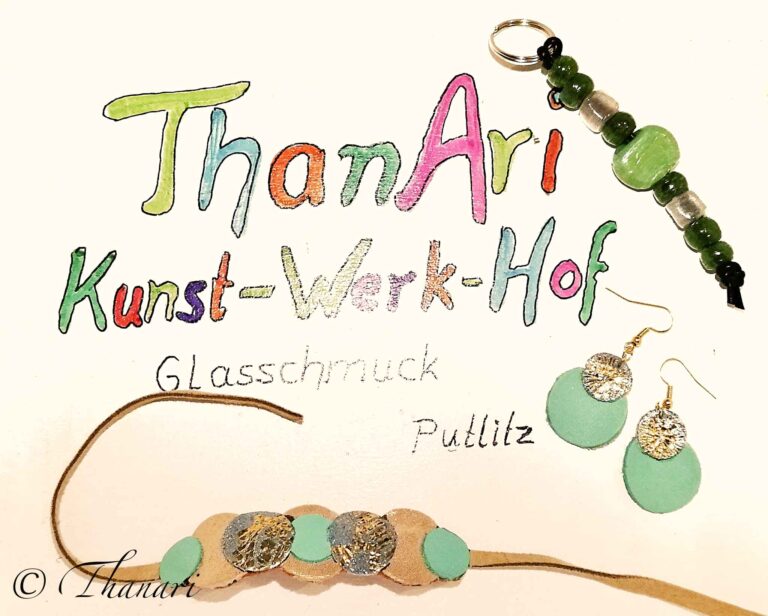 The glass works are made using the technique of glass fusion. Every single stone of the unique jewelry is handmade. The setting of the same is done mainly in Tiffany technique.
In addition to glass, other used materials are copper, which is genuinely silver-plated, stainless steel and 925 silver and leather.
Atelier Sigel not only invites you to marvel at the jewelry and works of art, but workshops for children and adults on the different techniques can also be booked here. The jewelery designer and visual artist Katharina Sigel studied fine arts at the HdK Berlin from 1992 to 2003. 
Since then she has been teaching children artistic techniques in a wide variety of ways at Berlin schools. 
 While learning is "obligatory" at school, the children can playfully and freely deal with colour, clay, beads, wood and much more at the Thanari Kunst-Werk-Hof. 
The creatively designed site invites you to discover and use a wide variety of materials. 
Workshops take place during the school holidays and from Thursday to Sunday on request. Art workshops can be booked in combination with delicious pizza from the clay oven, home-made lemonade and home-made cake. Children's birthday parties or work meetings of a different kind are particularly popular. 
For bookings or studio visits to make or purchase jewelry, please contact Katharina Sigel: 017727327340